Dr. Aaron B. - Patient and Knowledgeable Math and Physics Tutor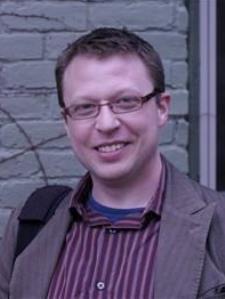 $50 / hr
Dayton, OH
20 miles Travel Radius

In-person + Online
Are you frustrated with teachers who seem to be more proficient with gibberish than their subject matter? Are you finding that despite putting hours in with your textbook its just not paying off? Do you just need someone to explain the same material from a different perspective? If your answer is yes to any of these questions then you have come to the right profile.

I discovered my passion for teaching very early on. As early as middle school I remember helping out my classmates with their a...
Reviews
Thank you for helping my son prepare for his calculus test. I appreciate how quick you were to assist and respond to my communication. He found the lesson to be very helpful!
- Jenny C. from Goldsboro, NC
Dr A really warmed up quickly, I don?t easily give 5?s however he knows his stuff patient and knowledgeable. Looks like he?s gonna be my go to guy. Whew; found someone who knows his stuff. He made me feel comfortable with the Differential Equations subject matter.
- Kenneth G. from Sicklerville, NJ
This was their first contact, so I cannot say much except that she will continue working with Dr Aaron. He was patient with her trying to articulate her difficulties in AP Calculus. We hope that their interactions with produce a positive outcome with Alyssa getting a better understanding of fundamentals.
- Elena A. from Bluffton, SC
Hi Dr Aaron, Just want to take this opportunity to thank you for helping Iris in Physics (Kinematics, Forces, Friction...) . I could feel that she is now starting to see the light at the end of the tunnel :) First, The result of the test correction that she did for Kinematics came out good. Secondly, she passed the recent quiz that she took in friction/forces. Third - there was a class competition this week in their class about friction/forces topic where the teacher divided them into 8 groups. Each group had 3 or 4 students. There were several questions and the 1st group who could answer each question correctly will be given a credit. To make the story short, their group won and she was one of the top contributors in their group that made them win...and here's the highlight - the last question in that competition was the hardest question and she was the only one in the entire class who was able to answer it (she said she presented the detailed calculation as well to the teacher ). With only 3 sessions with you, I was able to see the amazing result immediately. I can see that she is now enjoying this class. We are really glad we found you!!!!
- Maria G. from Union City, CA
My son got a ton of value from his session with Dr. Aaron. He was patient and showed him ways of approaching math that had not yet been shown to him. Would highly recommend him.
- Christina P. from Seattle, WA
Dr. Aaron was simply wonderful with my son. He was fun, entertaining, and encouraging. A great motivator, he was able to reach my son and help him get on track.
- Dee C. from Port Saint Lucie, FL
Dr. Aaron helped my son in 11th grade with Calc and Physics. Even though my son is a good student, he wanted some extra help with comprehension; breaking things down and simplifying things so they can be understood more easily. And that's exactly what he said Dr. Aaron did. We are pleased.
- MIRIAM C. from Ellicott City, MD
Dr. Aaron was very personable and effective. He helped me with AP calculus and I am much better prepared for my test! His tutoring was easy to understand, convenient, quick and to the point.
- Renee R. from Amsterdam, NY
Thank you Dr. Aaron! My son was truly excited about calculus again. Not sure why kids can't get this kind of explanation and time in the classroom anyrmore. We will be in touch for another session soon.
- Crystal T. from Knoxville, TN
Dr. Aaron has helped me develop into a great critical thinker and problem solver by tutoring me in AP Physics C: Mechanics throughout my senior year in high school. Meeting with him periodically, I was able to build a great foundation for conceptual learning that translated to a lot more success tackling physics problems. What I like the most about Dr. Aaron is the way he really focuses on the student and tries to develop their weaknesses in a personal way with attention to detail. I will be applying his excellent advice and tips in my physics courses next fall at Cornell University.
- Ashika A. from Doylestown, PA
Dr. Aaron has been extremely helpful getting me through a strenuous first year at the University of Edinburgh. He has helped me with Linear Algebra, Calculus, and Classical Physics. With Linear Algebra being a completely new concept to me, my meetings with Dr. Aaron was very valuable. While I took Calculus and Physics in high school, Dr. Aaron has been supportive in bringing my level of understanding of these subjects to a university level.
- Lisa M. from Lake Forest, IL
I cant say enough good things about Aaron. He has helped my daughter overcome her fear of physics. She passed her last test with a 95! He is great at tailoring the lessons to meet my daughter's needs and is willing to take the extra time to make sure she understands. And he is very flexible in when he can help with tutoring working around my daughter's school and extracurricular activities. I would recommend him to anyone who is struggling with Physics. Aaron is now helping my daughter with her Calculus and again was very flexible as to when he could help her. He is a very patient and encouraging tutor. He writes down all the examples they work on so my daughter can take them home to review. She is very comfortable with his teaching style and it works for the both of them. Check him out if your child needs help with Physics or Calculus!
- Darrell P. from Dayton, OH
Dr. Aaron was able to help my son at the last minute with some Physics work! He was knowledgeable and flexible. He easily explained the AP Physics work. We hope to be able to work with him again.
- Kim K. from Yorktown, VA
Dr. Aaron was extremely knowledgeable, personable and helpful with Calculus. I look forward to continuing to work with him. I know he will help me achieve my goals.
- NANCY K. from Wilmington, NC
Dr. Aaron has helped my son in AP CALCULUS and PHYSICS. My son has been very hesitant to use a tutor and Dr. Aaron is the exception. We will continue to use him throughout the school year!
- Susan S. from Brentwood, TN
I have worked with Dr. Aaron a few times and every time he has always taken the time to explain the problem thoroughly to ensure I understand the processes behind it. I highly recommend this tutor to those who truly want to learn the material as he will make sure that that goal is accomplished. Very nice and personable as well.
- Michael S. from Grosse Pointe, MI
He was able to make me feel more confident by going over problems I was having. I will continue to use him for the next weeks to review for my final . I'm glad we found him online. My tutor at school wasn't enough
- Nicholas P. from East Rockaway, NY
One of the best math tutors I've had! Goes at a good pace, explains things in ways that make it easy to understand, very patient and helpful !!
- Ariana B. from New Orleans, LA
We worked on Calc 3 going over two sections of my book, linear integration and independence of path. We worked a lot of practice problems, there were times that it seemed like we were going a little fast but I was able to slow down or even back track to cover the issues that I was having.
- Jonathan H. from Dayton, OH
Fantastic tutor, very knowledgeable and patient. Has helped me to identify weak points and areas to focus on. Would highly recommend to anyone.
- Eric R. from Miamisburg, OH
Search More Tutors in the UD Area